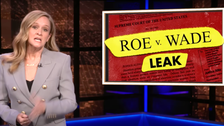 The "Full Frontal" host returned Thursday, noting that the first day of her show's hiatus coincided with the publication of the Supreme Court's explosive draft opinion in favor of eliminating Roe v. Veal.
"Just a beautiful day to relax and enjoy the sun and burn our throats in dust with endless screams," said Bee.
Bee described the majority's draft opinion, written by Judge Samuel Alito, as maddening.
"Not just because it takes away reproductive rights. Judge Alito's opinion cites a goddamn 17th century shit head who defended marital rape and had women executed for witchcraft, "he said.
Alito spoke out in favor of overturning the reference point because, according to him: "The inevitable conclusion is that the right to abortion is not deeply rooted in the history and traditions of the nation".
"Do you know what else is not mentioned in the Constitution?" asked the bee. "Cars or hamburgers or fucking Brazzers."
Subsequently, Bee directed his wrath republicans who has clenched their pearls for pro-choice protesters who demonstrated outside the homes of Supreme Court judges and lawmakers.
"Excuse me, but in my most civilized way, can I humbly ask you to fuck a shit?" she said. "How dare Republicans ask for civilization while stripping our civil rights?!?"
Watch Bee's full monologue below: