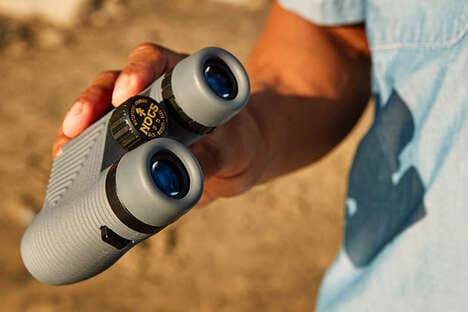 Huckberry, an online retailer of outdoor equipment, has partnered with high-end binoculars brand Nocs Provisions to release an exclusive edition of its unique Standard Issue binoculars.
The new version of this elegant yet highly functional binocular appears to be specifically geared towards sea activities. As a result, the unit wears a brand new Monterey Blue colourway and features IPX7 certified waterproofing, allowing them to withstand approximately 30 minutes of immersion in water.
Other noteworthy features of the new binoculars include eight-fold magnification, anti-reflective lens coating, fog protection, and a non-slip rubber case that's also built to withstand substantial drops. Furthermore, the Huckberry x Nocs Provisions 8 × 25 binoculars are very light, especially considering their overall robustness; one pair weighs only a kilo and can fit in a trouser pocket.
Image credit: Huckberry, Nocs provisions