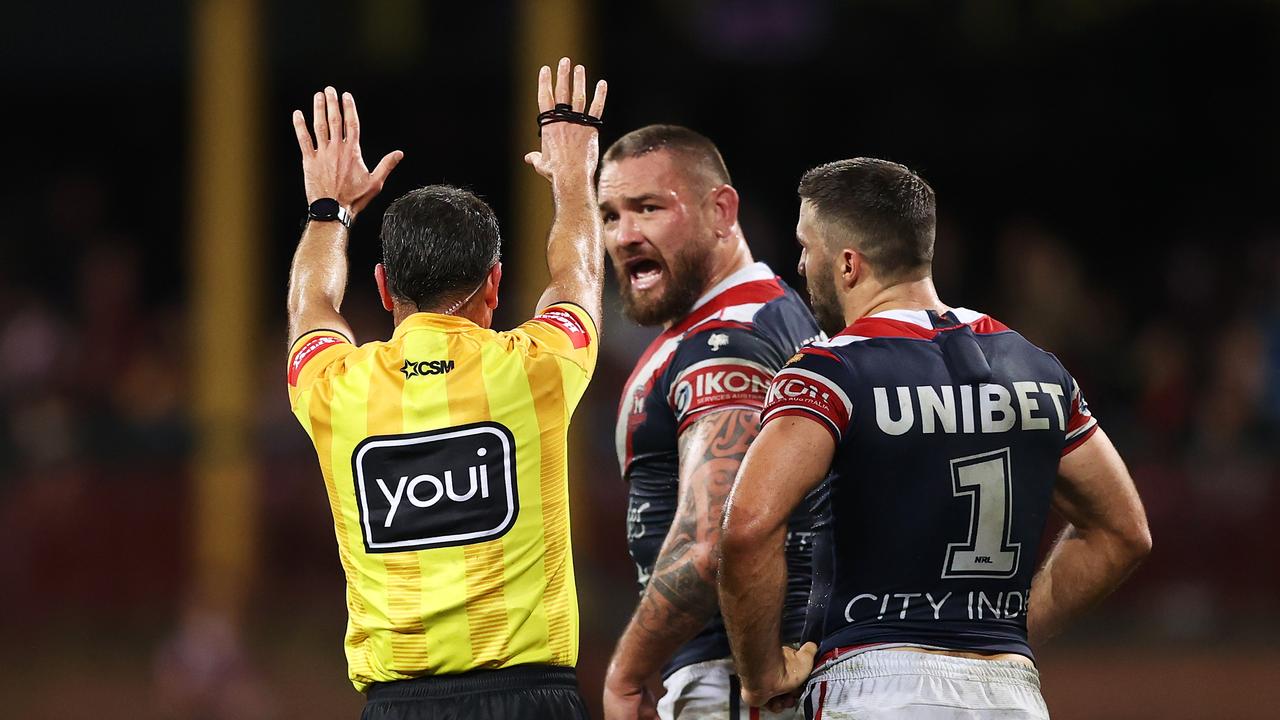 Trent Robinson was alongside Jared Waerea-Hargreaves after his frustrations with the referee exploded and he was dramatically hit with sin.
Roosters hitman Jared Waerea-Hargreaves was dramatically sentenced to sin against Penrith on Saturday night for cursing referee Gerard Sutton.
After the game, Roosters manager Trent Robinson sensationally defended Waerea-Hargreaves who he believes is being unfairly targeted by the referees.
Penrith was reaching victory when Waerea-Hargreaves lost his cool to Sutton with 11 minutes left in the race.
James Fisher-Harris was breaking in for the Panthers 'fifth try when he paired a swing arm to Waerea-Hargreaves' cheek.
Stream every game of every round of the 2022 NRL Telstra Premiership season live and without commercial breaks while playing on Kayo. New to Kayo? Try 14 days for free now.
Sutton assigned the try and then called the Roosters prop, who anticipated it was about to be put on the record.
"Take every opportunity you can to report me, don't you think," Waerea-Hargreaves told Sutton.
"I'm just saying. Every time bro, every fucking time. It's not fair man, I tell you."
By that time, Sutton had heard enough and trashed him as Waerea-Hargreaves protested "no, no, no" before James Tedesco took his teammate away.
Waerea-Hargreaves began to walk away while barking at his protest two more times in Sutton.
"Every fucking time brother. Every time, "he said.
Sutton simply responded with "go" and Tedesco was forced to stop Waerea-Hargreaves returning to the referee.
"It won't change his decision Jared, oh Jared be careful," Andrew Voss told the Fox League as Waerea-Hargreaves walked back towards Sutton.
"If he continues here, he'll be expelled entirely. I know he wears his heart on his sleeve and I'm short sleeves for that.
The Panthers received a second shot on goal due to the incident, which Nathan Cleary entered as the final points of the match they won 32-6.
Roosters manager Trent Robinson did not apologize for the swearing but fiercely defended Waerea-Hargreaves' overall point.
"You can't talk like that. It wasn't bad, but he swore. She didn't swear against him, she didn't abuse him, "Robinson said.
"He swore and if that's unacceptable, I'm not sure, but we haven't seen too many. But if there's a dirty word used (and) they're going out, then that's okay.
"(But) Jared is right too. Guys beat guys like that all the time. How many eight-point tries we've seen of guys diving into a corner and getting hit on the head, it just doesn't happen.
"If James Tedesco does that tackle, he's not in the report. It is not a high tackle to report.
"(But) you can't talk like that."
Robinson then doubled down and suggested that Waerea-Hargreaves be targeted by the referees.
"If Jared does something like that, everyone's ears go up. We had a boyfriend (Sitili Tupouniua) who passed away this week from suffering a concussion and not even mentioned," she said.
"If Jared does that it's a different story and I guess that's what he heard and I think he expressed it clearly and the wrong way, which got him 10 in the trash.
"I would be interested to know how many knees or high shots there have been and then there was a penalty, it just doesn't happen.
"But high shots happen on the goal line.
"I think we have had a sin in every game in our last three games against Penrith so Jared is obviously frustrated by that and made it clear and he shouldn't have sworn to make that point and of course the referee is sensitive too so he sent him in the trash can".
Originally published as "Any fucking time, it's not fair": Coach supports JWH as Roosters star explodes in referee