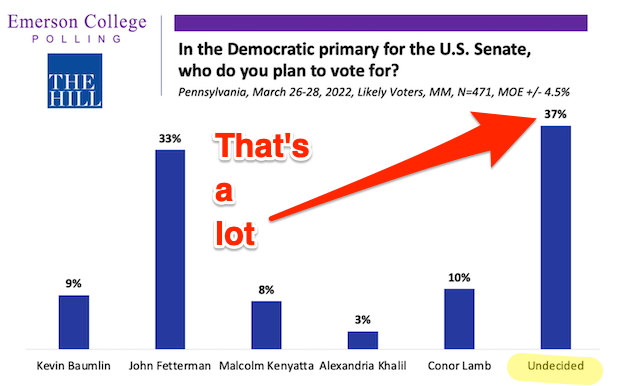 By Lambert Strether of Corrente
Bird Song of the Day
Warbler Week Two at Naked Capitalism. From Berkeley, WV. I am having fun with the warblers, so I thought I would continue. But readers, if you have other suggestions, please leave them in commments.
* * *
Politics
"But what is government itself, but the greatest of all reflections on human nature?" –James Madison, Federalist 51
"They had learned nothing, and forgotten nothing." –Charles Maurice de Talleyrand-Périgord
"When the going gets weird, the weird turn pro." –Hunter Thompson
Capitol Seizure
"Judge upholds Jan. 6 committee subpoena for RNC records" [Politico]. "In a landmark ruling rejecting an RNC lawsuit, U.S. District Court Judge Tim Kelly said the select committee had demonstrated its need for the party's data on its fundraising emails between Nov. 3, 2020, and Jan. 6, 2021 — when the RNC and Trump campaign sent supporters messages falsely suggesting the election was stolen. The committee contends those emails helped sow the seeds of the violence that erupted on Jan. 6. '[T]he Select Committee seeks reasonably relevant information from a narrow window during which the RNC sent emails promoting claims that the presidential election was fraudulent or stolen,' Kelly, an appointee of former President Donald Trump, wrote in the 53-page ruling. Kelly issued an injunction to allow the RNC to appeal his ruling by May 5. The RNC on Monday morning indicated it will indeed appeal the ruling and claimed a partial victory by forcing the select committee to narrow the terms of its Salesforce subpoena. That narrowing, which came in response to some of the RNC's sharpest concerns about the breadth of the subpoena, was cited repeatedly by Kelly as a reason to permit the committee to obtain the data."
Biden Adminstration
"Zelensky awards Pelosi the Order of Princess Olga, a Ukrainian civil honor" [WaPo]. • This is so, so stupid. We're the imperial hegemon, ffs. We are not awarded medals; we award them. (Previous awardee: Anne Applebaum.) Fortunately, Princess Olga isn't a Nazi. So there's that.
2022
* * *

"Pro-crypto cash floods Democratic primaries, rankling some lawmakers" [NBC]. " In many ways, the Georgia Democratic primary fight between two sitting House members — Reps. Carolyn Bourdeaux and Lucy McBath — is a pretty even matchup. The biggest difference might be $2 million in cryptocurrency backing. Both Democrats have been aggressively fundraising and racking up endorsements. McBath rocketed to prominence as a gun control activist after her 17-year-old son was fatally shot a decade ago. Bourdeaux says her newly drawn district, which forced the two colleagues to run against each other, is comprised of 60 percent of her old district. But McBath has something Bourdeaux does not: backing from a 30-year-old billionaire who co-founded a cryptocurrency exchange that allows people to swap currencies. This year, Protect Our Future, a new super PAC launched by FTX co-founder and CEO Sam Bankman-Fried, went up on air in greater Atlanta with nearly $2 million worth of ads praising McBath. That's a huge sum for one group to spend on a primary between a pair of Democratic incumbents." • Well, why not. The whole FIRE sector is riddled with fraud, so crypto fits right in.

PA: "Why Doesn'T Anyone Like John Fetterman…" [The Philadelphia Citizen]. The headline suggests this is a hit piece, but it's not. Instead, it's a character study of Fetterman (who we might recall is enmeshed in an unusually corrupt, stupid, and vengeful state party). "A dude who, as mayor, had the names of constituents who had been murdered actually inked into his skin just might be the kind of contrast against plutocrats like Oz or McCormick that plays well in a general election. Then again, maybe the establishment's hands-off approach to Fetterman is rooted in more personal matters. This piece by Holly Otterbein in Politico details all the ways in which Fetterman has refused to play nice with the political establishment at all levels — national, state and city. He's not a schmoozer or a backslapper or a pol who works personal relationships. He's aloof; shy, even. Party leaders are still smarting over his refusal to wait his turn and gracefully bow out of the senate race six years ago, where he finished third behind Katie McGinty (another shortsighted party choice, masquerading as "safe") and Joe Sestak, another practitioner of poke-your-eye politics. Black leaders, in particular, eye Fetterman with suspicion, and it has little to do with the fact that he blew off an appearance before the Philadelphia Black Clergy or the issue Lamb and Kenyatta have tried to use against him in the campaign: He once pulled a shotgun on a person of color who he erroneously thought had fired a weapon. (Consider this: Maybe Fetterman's refusal to apologize for l'affaire shotgun is an acknowledgment that it might just help him in the fall: "In large parts of the state, pulling a gun on somebody is just what you do on a Friday night," says political consultant Mustafa Rashed. "It might not be as much of a disqualifier as we'd like it to be.'"). No, the animus toward Fetterman from Black leaders has more to do with seeing him as a hulking embodiment of White privilege. Black and female elected officials have paid their dues in the extreme and have had a bevy of consultants along the way telling them that how they dress matters. Now here comes this dude, wearing basketball shorts to meet Joe Biden." • "Aloof, shy." Maybe I like Fetterman because he's an introvert?

PA: "Fetterman wows enthusiastic crowd in local stop" [Times-Leader]. "Fetterman is running for the Democratic nomination against U.S. Rep. Conor Lamb and State Rep. Malcolm Kenyatta; recent polling from Emerson College shows Fetterman running at 33%, Lamb at 10% and Kenyatta 8%." • But from that Emerson poll:

There's still time for Lamb's PACs to unload a garbage barge of oppo so that the Undecideds break Lamb's way.
2024
"Should Democrats concede the White House in 2024 to win in 2028?" [The Hill]. "The party would never officially concede the general election, but here's option three. 3. Retain Harris as the "sacrificial lamb" and quietly work to identify candidates for a 2028 ticket and shape an agreement on the voice of the party going forward." And how should this agreement be "shaped"? "Should the party decide to stand up to its fringe and make working-class Americans its true priority, then its leadership might want to reacquaint itself with the Democratic Leadership Council (DLC) and how then-Arkansas Gov. Bill Clinton used that model to win the White House after three Republican landslide victories in a row." • Aaugh! Aaugh!! Aaugh!!!
Democrats en Déshabillé
I have moved my standing remarks on the Democrat Party ("the Democrat Party is a rotting corpse that can't bury itself") to a separate, back-dated post, to which I will periodically add material, summarizing the addition here in a "live" Water Cooler. (Hopefully, some Bourdieu.) It turns out that defining the Democrat Party is, in fact, a hard problem. I do think the paragraph that follows is on point all the way back to 2016, if not before:

The Democrat Party is the political expression of the class power of PMC, their base (lucidly explained by Thomas Frank in Listen, Liberal!). ; if the Democrat Party did not exist, the PMC would have to invent it. . ("PMC" modulo "class expatriates," of course.) Second, all the working parts of the Party reinforce each other. Leave aside characterizing the relationships between elements of the Party (ka-ching, but not entirely) those elements comprise a network — a Flex Net? An iron octagon? — of funders, vendors, apparatchiks, electeds, NGOs, and miscellaneous mercenaries, with assets in the press and the intelligence community.

Note, of course, that the class power of the PMC both expresses and is limited by other classes; oligarchs and American gentry (see 'industrial model' of Ferguson, Jorgensen, and Jie) and the working class spring to mind. Suck up, kick down.

* * *

"How Tucker Carlson Reshaped Fox News — and Became Trump's Heir" [New York Times]. Let me call out this one paragraph: "The solution would not just propel Mr. Carlson toward the summit of cable news. It would ultimately thrust him to the forefront of the nationalist forces reshaping American conservatism. 'Tucker Carlson Tonight,' the host and his producers decided, would embrace Trumpism, not Mr. Trump. — while keeping a carefully measured distance from the president himself. For years, as his television career sputtered, Mr. Carlson had adopted increasingly catastrophic views of immigration and the country's shifting demographics. Now, as Mr. Trump took unvarnished nativism from the right-wing fringe to the Oval Office, Mr. Carlson made it the centerpiece of 'Tucker Carlson Tonight.'" • I don't know what jibber-jabber like "emotional core" even means. What's clear is that identity politics has blinded the Times to the actual composition of the Trump electorate:

Also shows the gigantic and rapidly growing breach between elite liberal journalism and the population.

NYT says we're at "a moment when white backlash is the jet fuel of a GOP." A poll just showed 52% of Latinos, 41% of non-whites and 20% of Black people will vote GOP in 2022. pic.twitter.com/5q0F20xmqS

— Glenn Greenwald (@ggreenwald) May 1, 2022

52% of Latinos would vote Republican because they're White Nationalists? Really? Meanwhile, if Tucker Carlson keeps doing the Lord's work, I may have to take the Times's 2024 candidate recommendations less seriously than I otherwise would.
Realignment and Legitimacy
I hope the ventilation was bad and none of 'em masked up:

Just a casual DC get-together hosted by the billionaire patron of The Atlantic, featuring the CIA Director, Secretary of State, and other good friends pic.twitter.com/brlBNeRY3j

— Michael Tracey (@mtracey) April 30, 2022

I hate to think like this, too. I seem to misplaced my sense of humor on this topic. (Except maybe the FCC chair; I'm too lazy to find the link, but I think Stoller likes her.)
#COVID19
Rule #2:
Broad street businesses were complaining so I reinstalled the pump handle.

— Neoliberal John Snow (@NeoliberalSnow) January 9, 2022
Lol:
Me to my GP last week: are you running HEPA filtration?

My GP: we don't need that, we're fine.

Also my GP: we need to reschedule today's appointment, the doctor has covid.

— Covid is Airborne in schools (@AugersMonster) May 1, 2022
Lots of schadenfreude these days….
PMC schooling behavior at its finest:
So what did you write 'Healthy Buildings' for? Do you just need to reap a reward that has nothing to do with enacting the best practices you call for? There are labels for this. Stop defending and start calling for better and equitable actions, for everyone in the building.

— LadyG (@LadyGmke) May 2, 2022
The dude erases his own book because it's not canon, or whatever we call the approvied list of talking points for the day. (I think in the 30s, the Comintern called this "the line.")
* * *
Lambert here: If some trusting, non-realist soul tells you that "Covid is over," you can tell them that cases are up, transmission is up, test positivity is up, hospitalization is up, rapid riser counties are up, and wastewater is up, too. And this is all from data designed to support the narrative, and gamed within an inch of its life. So, if signals like that are flashing red, consider what the real signal must be like. (Note also this is all with BA.2 only, and with what the establishment considers an "immune wall" made from vaccination and prior infection. Since semper aliquid novi Africam adferre, and we've let 'er rip at the airports…. Well, I just hope we get lucky with BA.4 and BA.5. "God has a special providence for fools, drunkards, and the United States of America." –Otto von Bismarck.
* * *
If you missed it, here's a post on my queasiness with CDC numbers, especially case count, which I (still) consider most important, despite what Walensky's psychos at CDC who invented "community levels" think. But these are the numbers we have. Oh, and just in case anybody thinks that "Vaxed and done" is anything more than a slogan:
The 'pandemic of the unvaccinated' line that many liberals in government and the media used to try and 'move on' from Covid and just pretend it was only a problem for antivaxxers was always an untruth but it is especially an untruth today. https://t.co/3FVTl9aj0M

— Mehdi Hasan (@mehdirhasan) April 30, 2022
* * *
Case count by United States regions: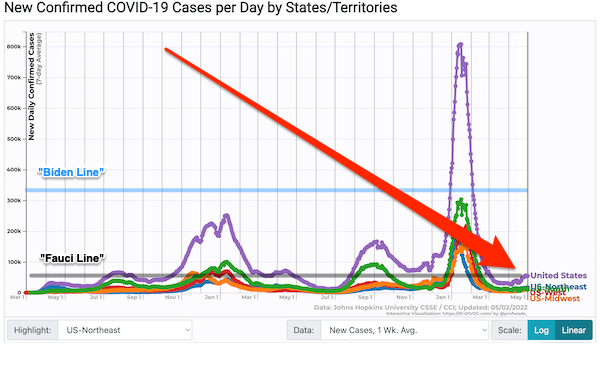 First decisive upward turn, so we'll see how it goes. Remember, it's 100% certain the cases numbers are significantly understated. They've always been gamed, but it's worse than before. One source said they though cases might be undercounted by a factor of six. Gottlieb thinks we only pick up one in seven or eight. The "Fauci Line" is a counter to triumphalism, since it compares current levels to past crises. The "Biden Line" shows what the case count would be if it were 54,000 * 6 = 324,000, i.e. not gamed. (I changed the Biden Line from dotted to solid because the dotted line was too hard to draw properly in my crude tool.)
Here are the cases for the last four weeks: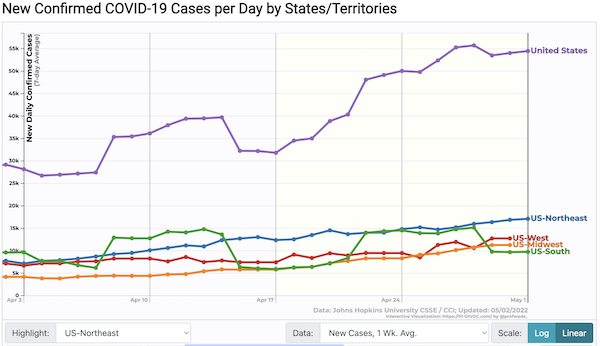 New York, New York:
New York City raises COVID-19 alert level from "low" to "medium" as cases continue to rise; no new measures at this time pic.twitter.com/noyEybMHEA

— BNO|Medriva Newsroom (@medriva) May 2, 2022
I hate to preen [lambert preens], but nobody who has been following Water Cooler will be surprised by this.
NOTE I shall most certainly not be using the CDC's new "Community Level" metric. Because CDC has combined a leading indicator (cases) with a lagging one (hospitalization) their new metric is a poor warning sign of a surge, and a poor way to assess personal risk. In addition, Covid is a disease you don't want to get. Even if you are not hospitalized, you can suffer from Long Covid, vascular issues, and neurological issues. For these reasons, case counts — known to be underestimated, due to home test kits — deserve to stand alone as a number to be tracked, no matter how much the political operatives in CDC leadership would like to obfuscate it.
From the Walgreen's test positivity tracker: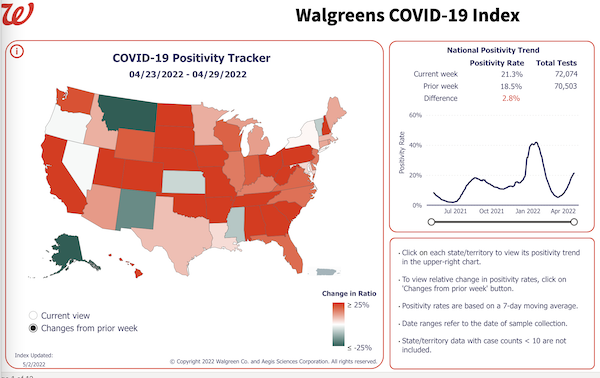 I'm leaving the corporate logo on as a slap to the goons at CDC.
MWRA (Boston-area) wastewater detection: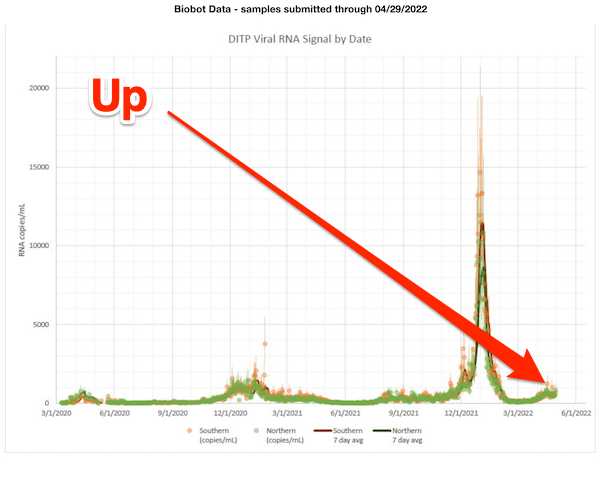 Both North and South services have turned up. Let's see if it persists.
The Massachusetts Water Resources Authority (MWRA) service area includes 43 municipalities in and around Boston, including not only multiple school systems but several large universities. Since Boston is so very education-heavy, then, I think it could be a good leading indicator for Covid spread in schools generally.
From Biobot Analytics: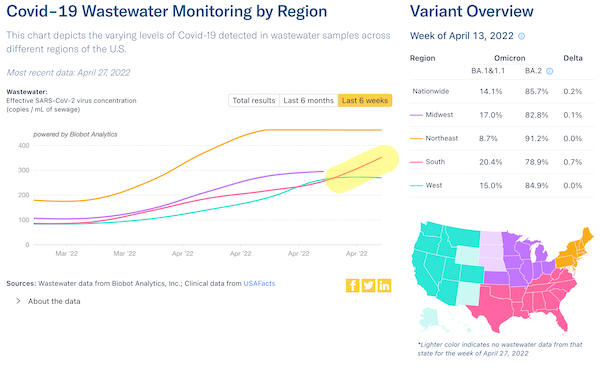 Also encouraging, in that the Northeast is flattening. Not encouraging, in that the South is up.
Cases lag wastewater data.
From CDC Community Profile Reports (PDFs), "Rapid Riser" counties: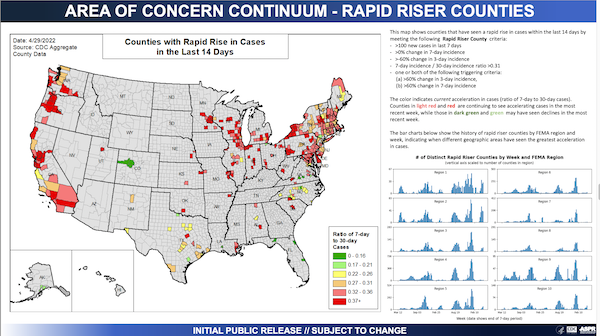 Worse in the Northeast and California. (Remember that these are rapid riser counties. A county that moves from red to green is not covid-free; the case count just isnt, well, rising rapidly.)
The previous release: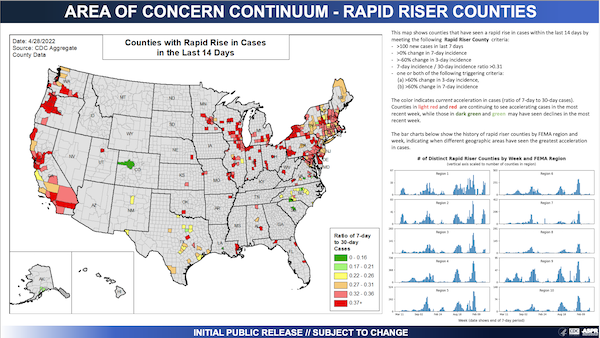 Here is CDC's interactive map by county set to community transmission. This is the map CDC wants only hospitals to look at, not you.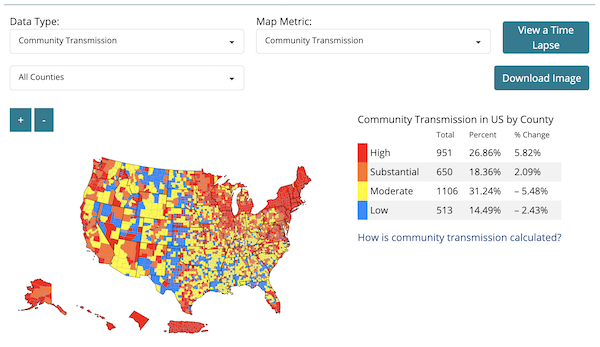 The Northeast remains stubbornly and solidly red. Now California is red as well. The Upper Midwest is moving that way, too. (It looks like portions of Maine went from High (red) to Substantial (orange), but that part of Maine is the Unorganized Territories, where virtually nobody lives.
Hospitalization (CDC Community Profile):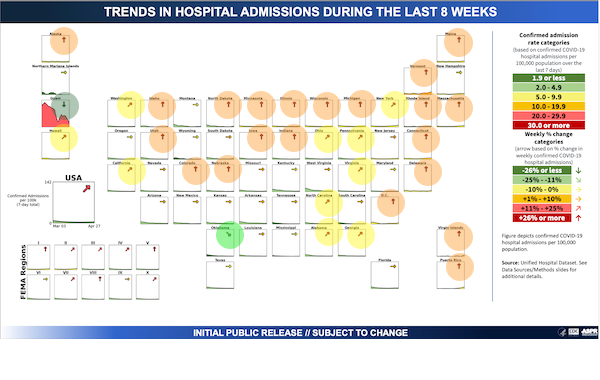 Remember the "sea of green"? Good times. Hospitalization is most definitely up. (Note trend, whether up or down, is marked by the arrow, at top. Admissions are presented in the graph, at the bottom. So it's possible to have an upward trend, but from a very low baseline.)
A new way for hospitals to game the data:
Covid hospitalizations are only counted in Massachusetts if the patient is given Dexamethasone, which is only recommended for those on oxygen. I feel the death & hospitalization criteria will extend across other states soon 😣 pic.twitter.com/J6ykG56Zrz

— MayasMommy2 #NotMeUs (@SheriD17536431) April 1, 2022
IM Doc writes: "I would guess with Omicron about 60% of the patients were on Dexamethasone – so no – not an adequate proxy" for hospitalization.
Just a reminder:
As with everything else, because the United States is not a serious country, our hospitalization data is bad. Here the baseilne is off:
Hospital trick: patients admitted with covid in 10-12 days become post-covid & no longer counted as hospitalized covid patients. ICU is full of post-covid patients that are here for 30, 40, 50 & more days. Not counted in the official stats.

— Dr. Natalia 💉😷 (@SolNataMD) January 24, 2022
Death rate (Our World in Data):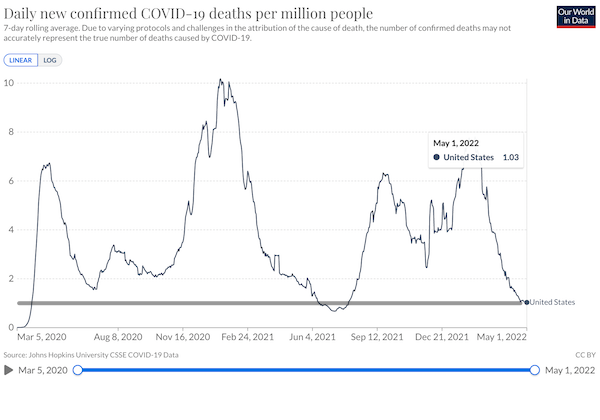 Total: 1,020,854 1,020,159. I have added an anti-triumphalist Fauci Line. Numbers still going down, still democidally high.
Covid cases in top us travel destinations (Statista):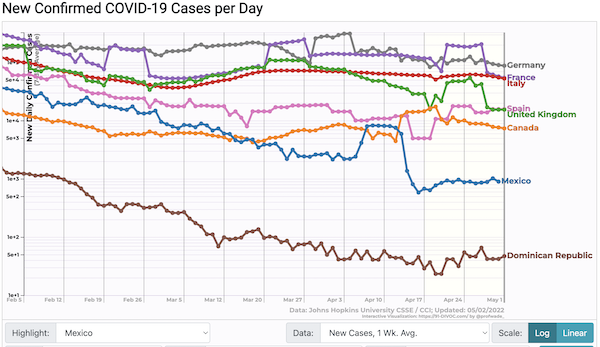 Still a bumpy ride…. (Note the quality of these numbers varies wildly. For example, the UK is cutting back on testing data.
Stats Watch
Manufacturing: "United States ISM Purchasing Managers Index (PMI)" [Trading Economics]. "The ISM Manufacturing PMI for the US fell for a second straight month to 55.4 in April of 2022 from 57.1 in March and compared to market forecasts of 57.6. It was the lowest reading since July 2020, as a slowdown was seen in production (53.6 vs 54.5 in March), new orders (53.5 vs 53.8), and employment (50.9 vs 56.3). Meanwhile, price pressures moderated (84.6 vs 87.1) while the backlog of orders decreased (56 vs 60). "The US manufacturing sector remains in a demand-driven, supply chain-constrained environment. In April, progress slowed in solving labor shortage problems at all tiers of the supply chain", Timothy Fiore, Chair of the ISM Manufacturing Business Survey Committee, said."
* * *
Commodities: "Ford and GM Need U.S. Battery Sector to Avert Another Supply Shock" [Bloomberg]. " Echoing his crosstown counterpart, General Motors Chair Mary Barra, Ford [Chair Bill Ford] said his company had secured enough supply of battery metals including lithium, cobalt and manganese to make 2 million EVs a year by 2026. But beyond that, the U.S. industry needs to grow a domestic business because America just plain doesn't make enough of the raw materials that go into EV batteries. Lithium is the biggest piece of the problem. The lightweight metal is essential to the lithium-ion batteries that power not only EVs, but iPhones and other contemporary devices. The element itself is plentiful, but there isn't enough mining going on globally, and precious little production happens in the U.S. Worse yet, the processing done to make lithium usable in battery cells is mostly done in China — about 80% of it, according to Piedmont Lithium, a startup pursuing lithium production in North Carolina. Automakers have similar concerns about nickel and cobalt, much of which happens to be sourced from geopolitical pariah Russia and the Democratic Republic of the Congo, where extraction has been linked to human rights abuses and environmental destruction…. For now, carmakers are at the mercy of a far-flung group of miners and suppliers that are racing to keep up with demand for electric vehicles. Prices are soaring: lithium alone has risen more than 200% since Tesla's Model 3 first shipped in July 2017, notes Grayson Brulte, who consults carmakers on government affairs. Price hikes like that are surely setting off alarm bells in Dearborn and Detroit." • Well worth reading in full.
The Bezzle: "Bored Ape Metaverse Frenzy Raises Millions, Crashes Ethereum" [Bloomberg]. "Yuga Labs, the creator of the popular Bored Apes Yacht Club collection of NFTs, launched a sale Saturday of virtual land related to its highly anticipated metaverse project, raising about $320 million worth of cryptocurrency in the largest offering of its kind. Demand was so strong that activity related to the event caused ripple effects across the entire Ethereum blockchain, disrupting activity and sending transaction fees soaring. Holders of the ApeCoin token who verified their identities jockeyed to buy deeds for 55,000 parcels of virtual land in Otherside, the project's planned metaverse game and the latest extension of the Bored Ape franchise. Anticipation that interest would be strong for the plots — Ethereum-based NFTs called Otherdeeds — had pushed up the price of ApeCoin last week ahead of the sale. Each plot cost a buyer around $5,800 based on ApeCoin's price of $19 as of Saturday, plus transaction costs, or "gas fees," in Ether, which skyrocketed after the sale went live at 9 p.m." • I wouldn't call the Metaverse Jackpot-ready. Still, when the whole FIRE sector is based on fraud, who am I to deny Bored Apes their place in the sun?
The Bezzle: "KPMG refuses audit opinion on embattled real estate group Adler" [Financial Times]. "KPMG has refused to sign off the 2021 financial results of German real estate group Adler in a rare move that pushes the embattled group into an ever deeper crisis. Adler disclosed late on Friday that its auditor, who had given the group an unqualified audit in the previous year, would issue a disclaimer of opinion for its 2021 consolidated accounts. "The auditor has not been able to obtain sufficient appropriate audit evidence to provide a basis for an audit opinion on these annual accounts," the company said. The embattled company said it would nonetheless publish "audited" financial statements — including the disclaimed opinion — on Saturday. In a statement on Friday night, Adler claimed this would fulfil the requirements under the terms of its outstanding bonds. Some of Adler's bond covenants stipulate that it has to provide audited financial results by April 30 or risk a default. KPMG's dramatic move comes a week after a separate team of forensic investigations of the Big Four firm uncovered widespread governance and compliance shortcomings, the risk of big writedowns and questionable payments to a real estate investor who has long denied influence over the company." • Must be really, really bad if one of the Big Four won't sign off.
* * *
Today's Fear & Greed Index: 25 Fear (previous close: 27 Fear) [CNN]. One week ago: 40 (Fear). (0 is Extreme Fear; 100 is Extreme Greed). Last updated May 2 at 1:58 PM EDT.
Rapture Index: Closes up one on Oil Supply/Price. "Oil is back above $100 per barrel." [Rapture Ready]. Record High, October 10, 2016: 189. Current: 189. (Remember that bringing on the Rapture is good.)
Book Nook
Now I'm convinced that Noah Smith really is an ignorant fool (albeit one with a talent for picking up bright shiny objects):
I swear, American cops think they're the city watch from a hack fantasy novel.

— Noah Smith 🐇🇺🇦 (@Noahpinion) April 30, 2022
First, Terry Pratchett is not a "hack." Two, the whole point of the Sam Vimes series on the City Watch is that he turned them into a functioning police force — the kind we would be lucky to have, and not the kind that Smith decries. (Technically, the Vimes series is a wonderful combination of the fantasy and police procedural genres. And considering where this country is heading under the leadership (followership?) of people like Smith, Amkh-Morpork is looking pretty good.
Zeitgeist Watch
Yikes:
Can you imagine total control of your emotions and feelings by this guy through brain chip? pic.twitter.com/3MZyJsZWWV

— Luke Rudkowski (@Lukewearechange) May 1, 2022
Class Warfare
"Audio: Kellogg's Executive Described Union as "Terrorists" Emboldened by Social Media" [The Intercept]. "In hushed tones, [Ken Hurley, the vice president of human resources and labor relations at The Kellogg Co.] described the tactics employed by activists during a nearly 10-week cereal plant strike last fall. The strike prevented concessions from workers and forced Kellogg's to back off a plan to expand its two-tier wage system. 'In my view,' Hurley said, 'the union leadership at the bargaining table were behaving more like terrorists than partners.'…. On Saturday, Kellogg's plant managers called workers at the plant in Battle Creek, Michigan, to personally apologize for Hurley's remarks. Hurley, the vice president of human resources and labor relations at Kellogg's, is no longer with the company following publication of this piece. " • What we like to see.
News of the Wired
"Matlack bill to protect property tax payers now law" [Penobscot Bay Pilot]. "In recent years, some large corporations have begun using this appeal process to advocate for property values that are significantly less than municipalities have determined their value to be. Referred to as the 'dark store' theory, big box retailers appeal their assessed property value based on comparisons with stores that have closed and sold for much less than their previous value. 'Large corporations are taking their newly built properties and comparing their value to closed down and abandoned stores,' said Matlack. 'This puts hundreds of thousands of property tax dollars at stake. These big box stores want the benefits of municipal services, such as police and fire protection, sewer and water services and well-maintained roads, while shifting their share of the cost onto the rest of the property tax payers. This law ensures that local assessors have the tools they need to support their determination of just value for these properties.' Written in consultation with Maine assessors, LD 1129 gives Maine municipalities the ability to clarify what makes a similar property comparable."
* * *
Contact information for plants: Readers, feel free to contact me at lambert [UNDERSCORE] strether [DOT] corrente [AT] yahoo [DOT] com, to (a) find out how to send me a check if you are allergic to PayPal and (b) to find out how to send me images of plants. Vegetables are fine! Fungi and coral are deemed to be honorary plants! If you want your handle to appear as a credit, please place it at the start of your mail in parentheses: (thus). Otherwise, I will anonymize by using your initials. See the previous Water Cooler (with plant) here. From TH: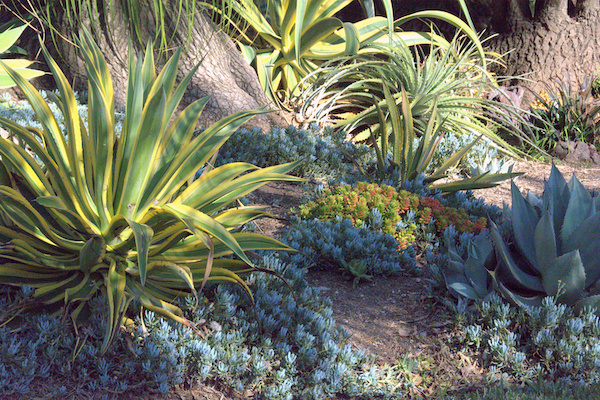 TH writes: "What caught my eye this time was the patch of green and gold that the sun was spotlighting. It seemed a little amazing that, for the most part, the bluer succulents and cacti were in the shade and the patches of vibrant green were framed in the sun."
* * *
NOTE ON PAYPAL: As some readers may know, PayPal whacked Consortium News's account, for no justification that I can see. It's to be hoped that Consortium News has its account restored, and that NC doesn't come under the same hammer. In the meantime, until I/we can come up with an alternative, I must continue to rely on PayPal (and rely I do). I will be cleaning out the account daily, and PayPal does give a heads-up, so your risk is minimal. Please carry on as before, or, if you feel you must, write me and I will send you directions for sending a check. Thank you for your support! It is much appreciated, and helps me with responsibilities. –lambert
Readers: Water Cooler is a standalone entity not covered by the recently concluded and — thank you! — successful annual NC fundraiser. So if you see a link you especially like, or an item you wouldn't see anywhere else, please do not hesitate to express your appreciation in tangible form. Remember, a tip jar is for tipping! Regular positive feedback both makes me feel good and lets me know I'm on the right track with coverage. When I get no donations for five or ten days I get worried. More tangibly, a constant trickle of donations helps me with expenses, and I factor in that trickle when setting fundraising goals:
Here is the screen that will appear, which I have helpfully annotated: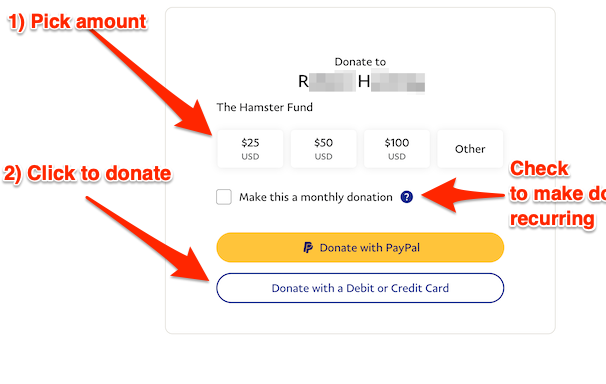 If you hate PayPal, you can email me at lambert [UNDERSCORE] strether [DOT] corrente [AT] yahoo [DOT] com, and I will give you directions on how to send a check. Thank you!