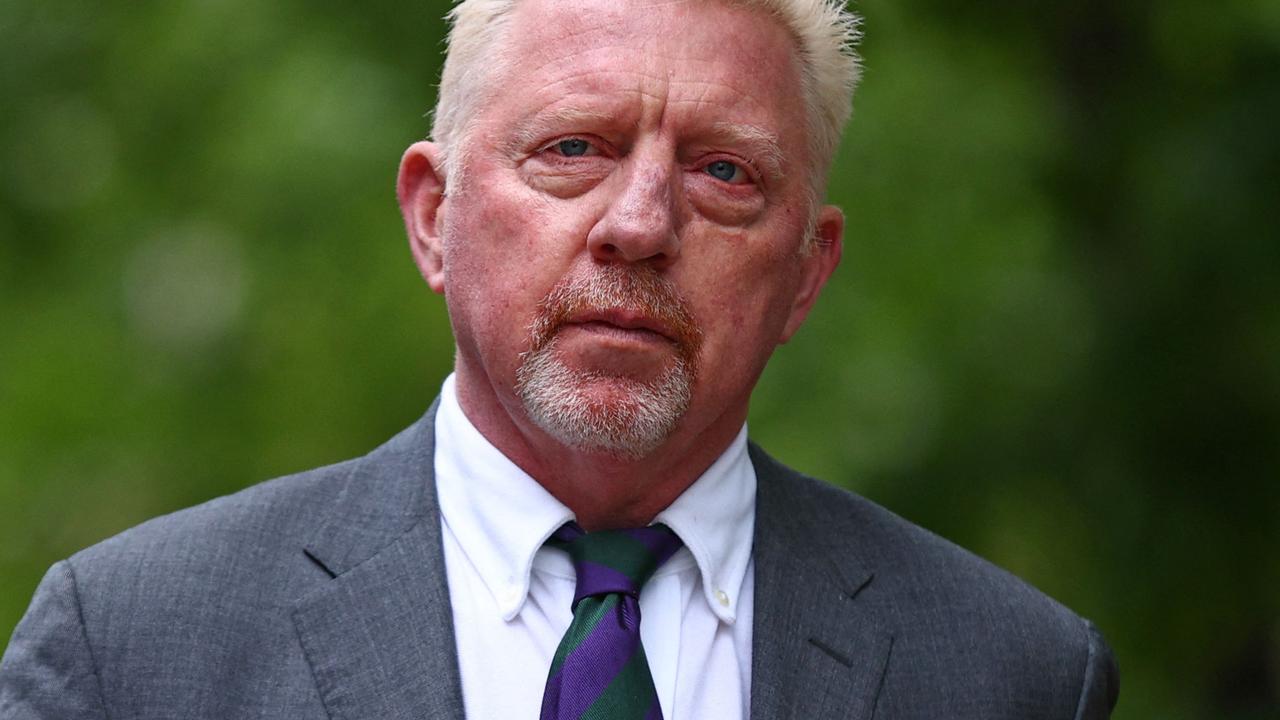 Disgraced Wimbledon champion Boris Becker will remain behind bars for years after a UK court found him guilty of hiding millions of dollars in assets.
Former tennis star Boris Becker was jailed for two and a half years after being found guilty by a British court on charges relating to his bankruptcy in 2017.
hey had denied breaking UK insolvency laws following its bankruptcy which led to him owing nearly 50 million pounds (88 million dollars) to creditors.
In total, Becker hid £ 2.5 million ($ 4.4 million) in assets to avoid paying off his debts.
The German star won Wimbledon three times in the late 1980s and the Australian Open twice, including in 1996, which was his last major trophy.
Earlier this month, he was found guilty on four counts under the UK's Insolvency Act and cleared of another 20 counts.
His sentence was handed down on Friday, UK time, in London.
Sentencing him, Judge Deborah Taylor stated, "He was obliged to disclose these assets, but you did not.
"I take into account your fall from grace. You have lost your career, your reputation and all your property.
"However, you showed no remorse," The sun Judge Taylor reported as saying.
"While I accept the humiliation you may have felt as a result of these proceedings, there was no humility."
His attorney Jonathan Laidlaw is happy with a lenient sentence.
"Boris Becker literally has nothing and there is nothing to show for what has been the brightest of sporting careers.
"It is nothing short of a tragedy. The fall of him is not simply a fall from grace, it is the public humiliation of this man, "she said.
"These proceedings destroyed his career and completely put an end to any prospect of income.
"His reputation is in tatters. You will have to count on the charity of others ".
Becker hid millions
Becker told the jury how his career earnings of $ 50 million dollars ($ A70 million) were swallowed up by a costly divorce from his first wife Barbara Becker, child support payments and "expensive lifestyle commitments" .
After his playing career, he went on to coach current world number one tennis player Novak Djokovic, worked as a television sports commentator and acted as a brand ambassador for companies including Puma. But he said his income "dropped dramatically" after his retirement in 1999.
In June 2017, the former world number one went bankrupt due to an unpaid loan of € 3 million ($ 4.45 million) on his Spanish estate. In total he owed his creditors nearly £ 50 million ($ 88.5 million).
Becker then transferred 427,000 euros ($ A634,000) from his corporate accounts to personal accounts, including his ex-wife.
It also failed to declare a 1.2 million euro (1.8 million Australian dollars) property in Germany, a bank loan totaling approximately 1.6 million Australian dollars and other assets including holdings that could have be used for his debts, he said Sky Sports UK.
He told jurors during the trial that he didn't know where his memorabilia was, including two of his three men's Wimbledon trophies.
Becker, who has lived in the UK since 2012, said he partnered with administrators trying to secure his assets, even offering his wedding ring, and relied on consultants who managed his life away from tennis.
It also owed the Swiss authorities five million francs ($ A7.4 million) and separately just under one million euros ($ A1.5 million) of responsibility for a conviction for tax evasion and attempted tax evasion in Germany in 2002.
Mr. Laidlaw claimed at the time of his bankruptcy that Becker was too "confident and dependent" on his advisors.
Becker grabbed a Puma duffel full of clothes and belongings for his time behind bars and spoke only to confirm his name during yesterday's sentencing hearing.
Originally published as Former Wimbledon champion Boris Becker was jailed in Britain for two and a half years