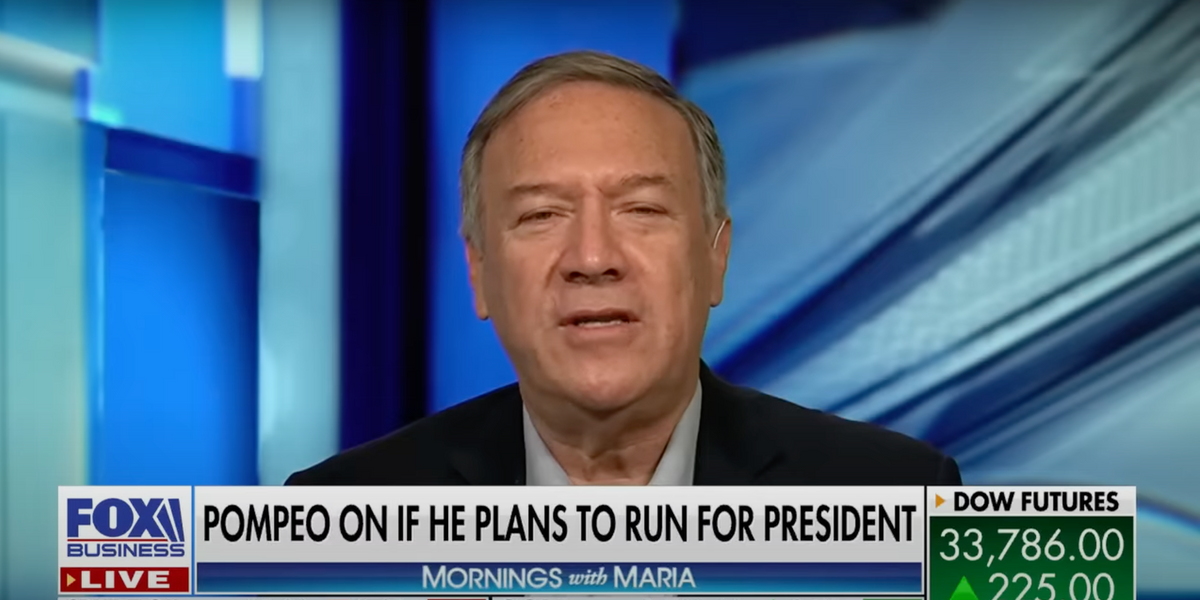 Nobody requested, however former Secretary of State Mike Pompeo is probably going operating for president. He's already used his appreciable expertise because the nation's prime diplomat to determine the most important menace to democracy, and it's a middle-aged Jewish lesbian from New York.
In an interview with David Weigel and Shelby Talcott, Pompeo declared that Randi Weingarten, the pinnacle of the American Federation of Academics (AFT) union, is the "most harmful individual on this planet," not Vladimir Putin, whom he's praised as "very shrewd, very succesful … elegantly subtle … I've monumental respect for him." That was only a few days earlier than Putin invaded Ukraine.
However Pompeo sees training as the massive ticket subject for Republicans in 2024, regardless of the "groomer" and demanding race idea panic kind of flopping for them in 2022.
He instructed Weigel and Talcott, "The central concepts of America are timeless — restricted authorities, expanded set of freedoms, defending the capability of individuals to apply their religion. The very issues I spoke about [at the Republican Jewish Coalition conference] — ensuring we don't educate our children crap in faculties, which we're on the middle of doing."
PREVIOUSLY:
Anti-LGBTQ College Board Candidates Drown In Personal 'Purple Wave'
If Republicans Suppose Academics Are All Baby Molesters, Why Are They Sending Their Children To College?
Proper-Wingers No Longer Being Shy About Wanting To Defund Public Faculties Fully
---
"I get requested 'Who's essentially the most harmful individual on this planet? Is it Chairman Kim, is it Xi Jinping?' Essentially the most harmful individual on this planet is Randi Weingarten," Pompeo stated. North Korea's Kim Jong Un is a bloodthirsty dictator. China is the world's most surveilled state below Xi Jinping's command, and a cult of persona surrounds the overall secretary.
Nevertheless, what a traditional individual would possibly take into account obscene character assassination, Pompeo views as not even an in depth name: "When you ask, 'Who's the almost certainly to take this republic down?' It could be the trainer's unions, and the filth that they're instructing our children, and the truth that they don't know math and studying or writing."
Republicans insist that America's kids are a bunch of woke Ralph Wiggums and so they blame the academics unions and Weingarten particularly. Republicans haven't simply criticized Weingarten professionally however attacked her personally. They don't actually govern a lot as demonize, in order that tracks. Final 12 months, Sen. Tom Cotton dismissed Weingarten's 35 years of expertise and claimed she is aware of nothing about training as a result of "she doesn't even have kids of her personal." It's not essentially the most refined dig at her sexuality.
Weingarten defends academics and advances their pursuits, however she's not solely liable for faculty curricula. Nevertheless, Republicans like Pompeo counsel that Weingarten has personally scheduled CRT drag exhibits in elementary faculties. Even after the bloodbath at a LGBTQ nightclub in Colorado Springs, Colorado, Republicans received't flip down the rhetoric. Pompeo shamefully declares that an American educator is a higher menace than international dictators.
Pompeo additionally took a predictable swipe at journalist Nikole Hannah-Jones, who dared remind folks that slavery occurred and was unhealthy.
"If our children don't develop up understanding America is an distinctive nation, we're finished," Pompeo whined. "In the event that they suppose it's an oppressor class and an oppressed class, in the event that they suppose the 1619 Challenge, and we have been based on a racist concept — if these are the issues individuals entered the seventh grade deeply embedded of their understanding of America, it's obscure how Xi Jinping's declare that America is in decline received't show true."
Nothing says "American exceptionalism" greater than believing the communist dictator when he says America sucks.
Responding on Twitter, Weingarten known as out Pompeo's remarks as both "ridiculous or harmful." (They're each.)
"On the state division, Pompeo defended Center East's tyrants and undermined Ukraine," she tweeted. "He was extra centered on pleasing Trump than combating for freedom, nationwide safety and democracy. To check us to China means he should not know what his personal division says."
And she or he was simply getting began:
So Mike, let me make it simple for you. We combat for freedom, democracy, and an economic system that works for all. We combat for what youngsters and communities want. Robust public faculties which can be secure and welcoming, the place youngsters discover ways to suppose and work with others. That's the American Dream!

And we combat towards this type of rhetoric and hate. Possibly spend a minute in one of many school rooms with my members and their college students and you're going to get an actual lesson within the promise and potential of America
Weingarten feels like somebody who really believes in America and its younger individuals. Pompeo is only a cynical bag of wind. The upside is that he'll most likely by no means see the within of the White Home once more.
[Semafor]
Observe Stephen Robinson on Twitter if it nonetheless exists.
Subscribe to the Wonkette YouTube Channel for nifty video content material!
Have a look at our fairly images on Instagram!
Yr Wonkette is one hundred pc ad-free! Please subscribe, donate, and in any other case assist maintain us alive and kicking!
window.REBELMOUSE_ACTIVE_TASKS_QUEUE.push(function(){
!function(f,b,e,v,n,t,s) {if(f.fbq)return;n=f.fbq=function(){n.callMethod? n.callMethod.apply(n,arguments):n.queue.push(arguments)}; if(!f._fbq)f._fbq=n;n.push=n;n.loaded=!0;n.version='2.0'; n.queue=[];t=b.createElement(e);t.async=!0; t.src=v;s=b.getElementsByTagName(e)[0]; s.parentNode.insertBefore(t,s)}(window, document,'script', 'https://connect.facebook.net/en_US/fbevents.js'); fbq('init', '482172895483293'); fbq('track', 'PageView');
});
window.REBELMOUSE_ACTIVE_TASKS_QUEUE.push(function(){
/*! getClosest.js | (c) 2017 Chris Ferdinandi | MIT License | http://github.com/cferdinandi/getClosest */ /** * Get the closest parent element that matches a selector. * @param {Element} elem Starting element * @param {String} selector Selector to match against * @return Element Returns null if not match found */ var getClosest = function(elem, selector) {
// Element.matches() polyfill if (!Element.prototype.matches) { Element.prototype.matches = Element.prototype.matchesSelector || Element.prototype.mozMatchesSelector || Element.prototype.msMatchesSelector || Element.prototype.oMatchesSelector || Element.prototype.webkitMatchesSelector || function(s) { var matches = (this.document || this.ownerDocument).querySelectorAll(s), i = matches.length; while (--i >= 0 && matches.item(i) !== this) {} return i > -1; }; }
// Get closest match for (; elem && elem !== document; elem = elem.parentNode) { if (elem.matches(selector)) return elem; }
return null;
};
// Vanilla JS
var className="active";
// getting current URL and adding a class on the current menu item
var path = location.pathname.split("https://www.wonkette.com/")[1]; var link = document.querySelectorAll('.menubar a[href="https://www.wonkette.com/" + path + '"]'); if (link[0]) { if (link[0].classList) { link[0].classList.add(className); } else { link[0].className += ' ' + className; } }
// remove class from home-link var home = document.getElementsByClassName('home__item'); if (home[0]) { if (home[0].classList) { home[0].classList.remove(className); } else $)', 'gi'), ' ');
}
// search the closest parent and adding an active class on it too
var closestParent = getClosest(link[0], '.menubar_item-dropdown');
if (closestParent) { if (closestParent.classList) { closestParent.classList.add(className);
} else { closestParent.className += ' ' + className; } }
var socials = document.getElementsByClassName('social-links')[0]; var cloneSocials = socials.cloneNode(true);
var menu = document.getElementById("menubar"); var cloneMenu = menu.cloneNode(true);
var mobileMenu = document.getElementsByClassName('main-menu-wrapper')[0]; var beforeEl = document.getElementsByClassName('menu-global__search-form')[0];
mobileMenu.insertBefore(cloneSocials, beforeEl); mobileMenu.insertBefore(cloneMenu, beforeEl);
if (!document.body.classList.contains('logged-out-user')) { var existCondition = setInterval(function() { var userLink = document.querySelectorAll('.main-menu-item--my_page .link'); if (userLink.length) { clearInterval(existCondition); var membersLink = document.querySelectorAll('#membersLink'); var userUrl = userLink[0].href; Array.prototype.forEach.call(membersLink, function(el) { el.href = userUrl; });
if (document.querySelector('.main-menu-item--designer_editor')) { document.querySelector('.main-menu-wrapper').classList.add('user-admin'); } } }, 500); } else { var existCondition = setInterval(function() { var userLink = document.querySelector('.main-menu-item--login .link'); if (userLink) { clearInterval(existCondition); userLink.href="http://www.wonkette.com/core/users/email_login/"; } }, 500)
}
function copyValue(el) { var thisVal = el.options[el.selectedIndex].text; var closestForm = getClosest(el, 'form'); var paypalAmount = closestForm.nextSibling.querySelector('.paypal-amount'); paypalAmount.value = thisVal; }
document.addEventListener("scroll", createIdleScrollListener(() => { if (window.scrollY > 0) { document.body.classList.add('page-scrolled'); } else { document.body.classList.remove('page-scrolled'); } }));
function createIdleScrollListener(callback) { let ticking = false;
return function onScrollIdle() { if (ticking) { return; } ticking = true; requestAnimationFrame(() => { callback(); ticking = false; }); }; }
});
window.REBELMOUSE_ACTIVE_TASKS_QUEUE.push(function(){
window.addEventListener("scroll", () => { if(this.scrollY > 50 ) { document.querySelector(".rebelbar.rebelbar--fixed.skin-simple").style.display = 'none' } else document.querySelector(".rebelbar.rebelbar--fixed.skin-simple").style.display = 'block' });
});
window.REBELMOUSE_ACTIVE_TASKS_QUEUE.push(function(){
window.REBELMOUSE_STDLIB.loadExternalScript("https://checkout.stripe.com/checkout.js", function() {
if (!Element.prototype.matches) Element.prototype.matches = Element.prototype.msMatchesSelector || Element.prototype.webkitMatchesSelector;
if (!Element.prototype.closest) Element.prototype.closest = function(s) { var el = this; if (!document.documentElement.contains(el)) return null; do while (el !== null && el.nodeType === 1); return null; };
function formsHandling() { var formDonate = document.querySelectorAll('.donation-form:not(.processed)');
formDonate.forEach(function(formEl) { var formEl = formEl;
formEl.classList.add("processed");
formEl.addEventListener("submit", function(event) { event.preventDefault(); });
var donationBtns = formEl.querySelectorAll('.donate-button');
donationBtns.forEach(function(el) { el.addEventListener("click", function(event) { event.preventDefault(); formProcessing(el) }); });
function formProcessing(el) { var btn = el; var payment = btn.getAttribute('data-payment'); var planType = formEl.querySelector('input[name="plan_type"]:checked').value; var checkedOption = formEl.querySelector('input[name="amount"]:checked'); var amount = checkedOption.value * 1; var amountOptional = checkedOption.getAttribute('data-amount'); var dataValue = checkedOption.getAttribute('data-value'); var action;
if ( formEl.contains(formEl.querySelector('.remove-me')) ) { formEl.querySelectorAll('.remove-me').forEach(function(el){ el.remove() }); }
if ( payment == "paypal" ) { formEl.action = "https://www.paypal.com/cgi-bin/webscr"; formEl.setAttribute('target', '_blank');
addHidden( 'currency_code', 'USD'); addHidden( 'cmd', ''); addHidden( 'return', "https://www.wonkette.com/st/Wonkettes_Hero"); addHidden( 'cancel_return', window.location.href);
if ( planType == "once" ) { checkedOption.value = dataValue; formEl.querySelector('input[name="cmd"]').value="_donations"; addHidden( 'business', 'rebecca@wonkette.com'); addHidden( 'item_name', 'Wonkette Donation'); addHidden( 'item_number', 'Just Once');
//add new params addHidden( 'a3', dataValue); addHidden( 'p3', 1); addHidden( 't3', 'D');
} else if ( planType == "monthly" ) { formEl.querySelector('input[name="cmd"]').value="_xclick-subscriptions"; addHidden( 'business', 'rebecca@wonkette.com'); addHidden( 'item_name', 'Wonkette Recurring Donation'); addHidden( 'item_number', 'wonkette_recurring');
//add new params addHidden( 'a3', dataValue); addHidden( 'p3', 1); addHidden( 't3', 'M'); addHidden( 'src', 1); addHidden( 'srt', 52); } formEl.submit(); } else if ( payment == "strip" ) { addHidden( 'entity_type', 1); addHidden( 'plan_type', 1); addHidden('entity_id', getSiteId() ); checkedOption.value = dataValue * 100;
if ( planType == "once" ) { formEl.action = "/core/payment/single_donation"; addHidden( 'plan_name', 'One Time Donation'); stripInit(amount, 'One Time Donation');
} else if ( planType == "monthly" ) { formEl.action = "/core/payment/recurring_donation"; addHidden( 'plan_name', 'Monthly Donation'); addHidden( 'plan', 'donation_' + amount); stripInit(amount, 'Monthly Donation'); }
}
} function addHidden(key, value) { // Create a hidden input element, and append it to the form: var input = document.createElement('input'); input.type="hidden"; input.name = key; input.value = value; input.className += 'remove-me'; formEl.appendChild(input); }
function stripInit(amount, description) { var token = function(res){ addHidden('stripeToken', res.id); addHidden('stripeEmail', res.email); formEl.submit(); };
if (amount) { StripeCheckout.open({ key: 'pk_live_7dJjNGbMgTkHfEasr9FsLcjF', // real //key: 'pk_test_zbMpaIyMyHJ7TLUEheC7q2iS', //test amount: amount, name: 'Wonkette', image: 'https://assets.rbl.ms/16950638/origin.png', description: description, panelLabel: 'Donate', token: token, locale: 'auto' }); } else { window.alert('Select donation amount first') } } });
function getSiteId() { var site_id = null; var inner = document.querySelector('html').innerHTML var str = inner.split('"site_id": '); if( str[1] != undefined ){ site_id = str[1].split(',')[0]; } return !isNaN(site_id) ? site_id : false; } }
formsHandling();
REBELMOUSE_STDLIB.createElementChangeListener(".show-more.js-expand:not(.processed)", (el) => { const keepReading = el; keepReading.classList.add("processed"); keepReading.addEventListener("click", function() { setTimeout(formsHandling, 500) }); });
});
});
window.REBELMOUSE_ACTIVE_TASKS_QUEUE.push(function(){
window.disqus_config = function () { this.page.identifier = "2658763402", this.page.url = "https://www.wonkette.com/mike-pompeo-s-f-ck-marry-kill-china-putin-teachers-union-head-randi-weingarten"; }; var disqusCt = document.createElement('div'), disqus_config; disqusCt.id = 'disqus_thread'; (function () d.body).appendChild(s); )();
function loadCountScript(callback) { var s = document.createElement('script'); s.type="text/javascript"; s.async = true; s.id = 'dsq-count-scr'; s.src = "//wonkettecom.disqus.com/count.js"; var x = document.getElementsByTagName('script')[0]; x.parentNode.insertBefore(s, x); s.onload = () => callback(s); document.head.append(s); } loadCountScript(script => { /*Add comment Button to all articles*/ REBELMOUSE_STDLIB.createElementChangeListener(".share-panel:not(.js--has-comments)", (el) => { let sharesPanel = el; sharesPanel.classList.add('js--has-comments'); if (sharesPanel.closest('.article__shares')) { let postId = window.REBELMOUSE_BOOTSTRAP_DATA.post.id, postURL = location.protocol + '//' + location.host + location.pathname; addButton(postURL, postId, sharesPanel); } else if (sharesPanel.closest('.widget')) { let thisPost = sharesPanel.closest('.widget'), postId = thisPost.getAttribute('elid'), postURL = thisPost.querySelector('.widget__headline-text').getAttribute('href'); addButton(postURL, postId, sharesPanel); } }); });
function addButton(url, id, el) { var commentBtn = document.createElement('span'); //commentBtn.href = url; commentBtn.classList.add('js--toggleDisqus'); commentBtn.classList.add('disqus-comment-count'); commentBtn.setAttribute('data-disqus-url', url); commentBtn.setAttribute('data-postid', id); //commentBtn.setAttribute('data-disqus-identifier', id); commentBtn.innerText="0"; el.append(commentBtn); DISQUSWIDGETS.getCount({ reset: true }); //console.log(url, id); } REBELMOUSE_STDLIB.createElementChangeListener(".js--toggleDisqus:not(.js--callDisqus-processed), .show-more:not(.js--callDisqus-processed)", (el) => { console.log('run callDisqus()'); var timeOut = 10; if (el.classList.contains("show-more")) { timeOut = 1000; } el.classList.add('js--callDisqus-processed') el.addEventListener('click', function () { setTimeout(function () { let t = el, thisPost = t.closest('article') || t.closest('.js-section-loader-feature-container'), postId = t.getAttribute('data-postid'), postURL = t.getAttribute('data-disqus-url'); document.querySelector('#disqus_thread') && document.querySelector('#disqus_thread').remove(); if (t.closest('.article__shares')) { let postWrap = document.querySelector('.mobile-post-wrapper'); postWrap.appendChild(disqusCt); } else { let afterEl = t.closest('.widget'); if (afterEl) { afterEl.parentNode.insertBefore(disqusCt, afterEl.nextElementSibling); } } console.log('DISQUS.reset', postId, postURL); DISQUS.reset({ reload: true, config: function () { this.page.identifier = postId; this.page.url = postURL; } }); if (t.classList.contains('js--toggleDisqus')) { let disqus = document.getElementById("disqus_thread"); // disqus.scrollIntoView(); } }, timeOut) }); }); // Hide hidden tip-jar, idk why window.REBELMOUSE_STDLIB.createElementChangeListener(".js-keep-reading:not(.js-processed)", (el) => { let keepReading = el; keepReading.classList.add('js-processed'); //keepReading.closest('.mb-2').nextElementSibling.style.display='none'; });
});