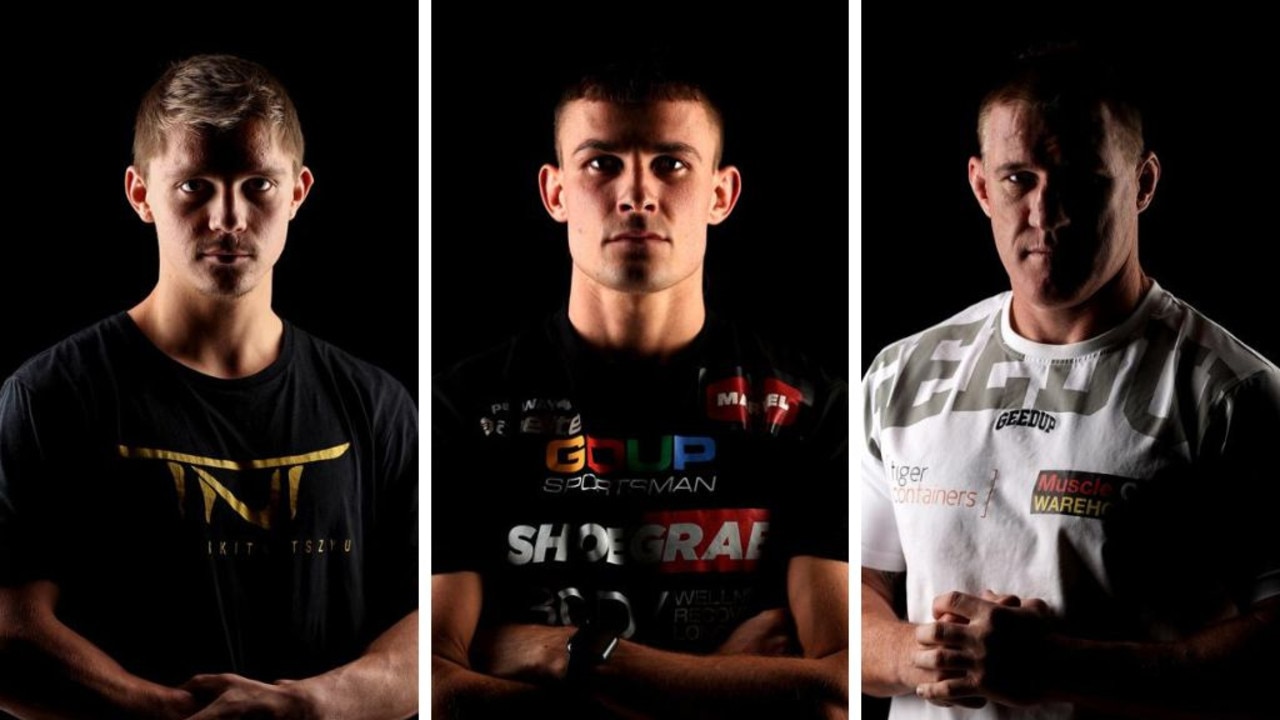 Paul Gallen will earn more money from 30 minutes in the ring than he would for a full year's salary in the NRL. Follow all the action from tonight's blockbuster fight card.
Australia's heavyweight king Justis Huni – the only man to beat Paul Gallen – has backed the former NRL legend to shock Kris Terzievski in their title showdown tonight in Newcastle.
News Corp can reveal Gallen will pocket at least $800,000 when he steps into the ring against Terzievski – and his pay day could hit the $1 million mark depending on pay-per-view sales from the fight blockbuster at the Newcastle Entertainment Centre.
FOLLOW EVERY FIGHT FROM THE STACKED CARD BELOW
If anyone understands the bravery and toughness of Gallen, it is Huni, who was stunned by the former rugby league star's ability to stay on his feet in his 10-round disposal of the 40-year-old last June.
Gallen took such a beating that Huni was forced to withdraw from the Tokyo Olympics with a busted hand that required surgery.
Watch Paul Gallen vs Kris Terzievsk LIVE on Main Event available on Kayo & Foxtel, Wed 11th May from 7pm AEST. ORDER NOW >
The little-known Terzievski (10-1-1, 8KO) is tipped to edge out Gallen (12-1-1, 7KO) by virtue of his height and amateur career, but Huni believes the NRL great can prevail in what could be his swansong to boxing.
"I think Paul Gallen has a huge chance," Huni said.
"I haven't fought Kris. He is tall and moves well, but he was stopped by my first professional opponent (Django Opelu), who I beat pretty comfortably.
"The big thing about Gal is he is a pressure fighter, he will come forward all night and won't take a backward step.
"It will come down to whether Terzievski can withstand his pressure.
LIVE RESULTS FOR EVERY FIGHT ON THE CARD
– Paul Gallen vs. Kris Terzievski (10 rounds for Australian and Australasian heavyweight title)
– Harry Garside vs. Layton McFerran (10 rounds for Australian lightweight title)
– Nikita Tszyu vs. Mason Smith (six rounds at super-welterweight)
– Sam Goodman vs. Fumiya Fuse (10 rounds at super-bantamweight)
– Hass Hamdan vs. Trent Girdham (six rounds at welterweight)
– Jason Fawcett vs. Terry Nickolas (four rounds at super-welterweight)
– Amber Wright vs. Sara Jalonen (five rounds at featherweight)
– Hironiri Mishiro vs. Francis Chua (eight rounds at lightweight)
– Linn Sandstrom vs. Floryvic Montero (eight rounds at super-flyweight)
IN-DEPTH LOOK AT AUSTRALIAN BOXING'S BEST FIGHT CARD
UNDERDOG PREDICTS CANELO-LIKE UPSET
Kris Terzievksi has vowed to pull off an upset in similar style to Dmitry Bivol's boilover against Saul 'Canelo' Alvarez last weekend.
Bivol was an $8 underdog but dominated boxing's biggest star with a masterclass of defensive counter-punching, which is what Terzievki intends to deploy against the aggressive Gallen.
"I watched the Canelo-Bivol fight and I saw similarities, they wanted to test Bivol under the bright lights, his biggest stage was the Canelo show just like these guys are making it about the Gal show," Terzievki said.
"I was very impressed by how he stuck to a game plan and didn't try to box outside of himself, so I'm looking to do similar.
"I've got a great game plan, I believe in my skills, and that's what is going to get me over the line.
"He's got that toughness, it's about controlling the chaos. He's going to bring that, and if I can stay calm under that fire I feel like I'm going to have a very, very good night.
"Being on the biggest stage is a financial incentive as well, if I win I get to help my mum, my family, myself. These things are inspiring me, but ultimately I want to do the best I can."
Originally published as Paul Gallen v Kris Terzievski fight time, live stream, undercard information and fight preview