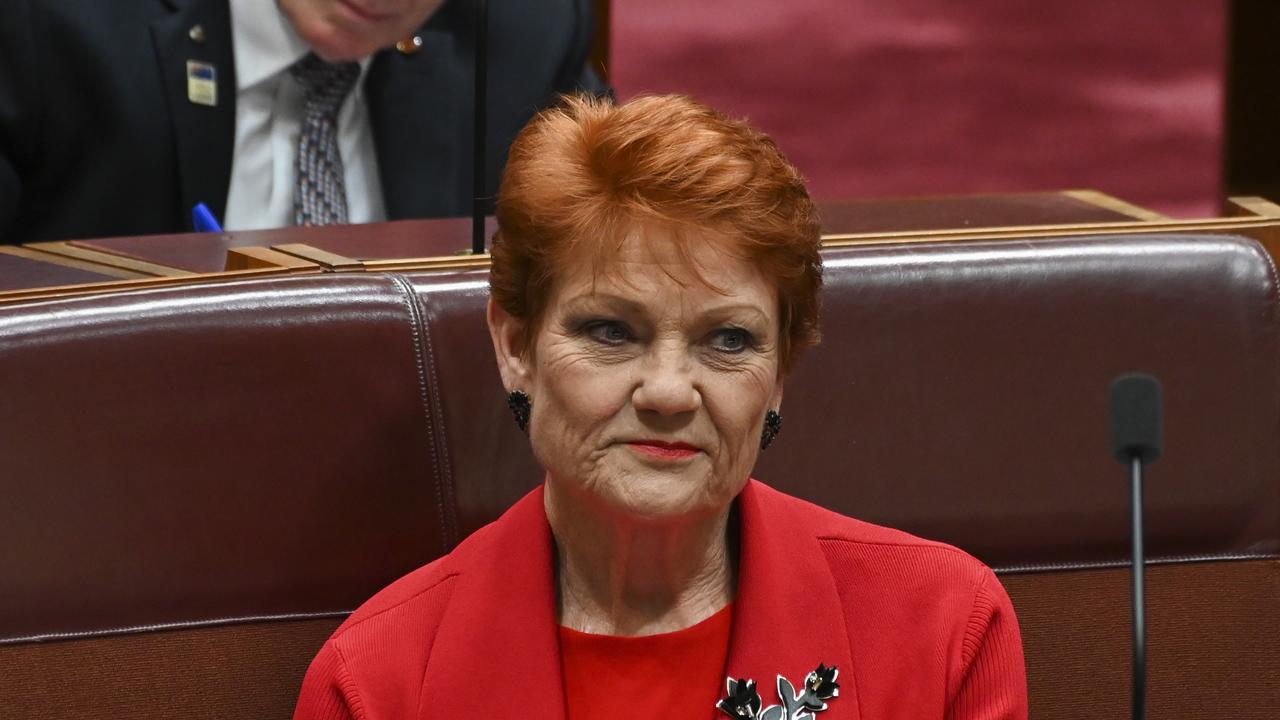 Pauline Hanson has declared she is "not a racist" after leaving the Senate chamber aghast by offering to drive a Pakistani-born Greens Senator Mehreen Faruqi "to the airport" to go back where she came from.
In a shocking clash in the Senate this afternoon, Senator Faruqi took the One Nation leader to task after she launched an attack on social media.
Senator Hanson was filmed smiling throughout the criticism, before she rose to suggest the motion to condemn her was "hypocrisy" and an "idiotic stunt".
"It's time we had a real discussion about what constitutes racism," Senator Hanson said.
"I didn't refer to the Senator's race or imply she had inferior characteristics due to her race or country of origin.
"I only suggested that because she is so obviously unhappy in her adopted country with her privileged position, she should go back to Pakistan."
Senator Hanson said she was "fed up" with people who use their skin colour to "play the victim".
"People must understand what the word racist means, it means that you believe your race to be superior to another," she said.
"I have never, ever, ever said myself to be superior to another. Ever. Criticism is not racism.
"I see too much reverse racism. I see activists that are using the race to divide us as a nation.
"Your threats are trying to silence me, it's not going to damn well happen."
Stream more on politics with Flash. 25+ news channels in 1 place. New to Flash? Try 1 month free. Offer ends 31 October, 2022 >
Senator Hanson then shocked the chamber by suggesting she would drive the Greens Senator to the airport.
"As I have explained myself, I will not retract what I've told Senator Faruqi. She can do and go where I've what I've said. I make the offer also, to take her to the airport."
At the conclusion of her speech, another Greens Senator, Jordon Steele-John, yelled across the chamber, "You scumbag."
On September 9, the One Nation leader responded to a tweet by Senator Faruqi following the death of Queen Elizabeth II, telling the Greens deputy leader to "p*** off back to Pakistan" for comments regarding the late monarch.
The Greens Senator said she offered her condolences to the late Queen, but couldn't "mourn the leader of a racist empire built on stolen lives, land and wealth of colonised peoples".
"We are reminded of the urgency of Treaty with First Nations, justice & reparations for British colonies & becoming a republic," Senator Faruqi wrote on Twitter.
That led to a reply from Senator Hanson, who told Pakistan-born Senator Faruqi to leave Australia.
"When you immigrated to Australia you took every advantage of this country. You took citizenship, bought multiple homes, and a job in a parliament. It's clear you're not happy, so pack your bags," she wrote on Twitter.
"Like many migrants and people of colour in this country. I've been told to go back to where I come from hundreds of times."
Senator Mehreen Faruqi told the chamber today she was sick of being "gaslighted" by those who had never experienced racism.
"Senator Pauline Hanson did it a few days ago, telling me in a tweet to p*** off back to Pakistan. It was a racist slur against me," she said.
"A deliberate and effective attempt to whip up a frenzy. Her tweet triggered an avalanche, days of abusive calls, emails, tweets and comments directed at me, saying things like 'people will piss on your grave', 'I will cheer when you die', 'your lot are good for target practice' and 'what a dirty vulgar creature you are'.
"It never gets easier to deal with racist attacks. It hurts every time. It does shake your sense of worth and your belonging to a place which has been home to me for 30 years. It is insulting. And it is humiliating."
Government Senate leader Penny Wong said the comments were "appalling".
"These are comments that have been levelled at me countless times since I arrived in this country. I remember getting them from kids in the schoolyard," Senator Wong said.
"It is triggering each time you hear it on the Senate leader, I still get triggered and I wonder how it is for kids in the schoolyard who get the same thing."
Originally published as Pauline Hanson declares she is 'not a racist' in shocking clash with Greens senator