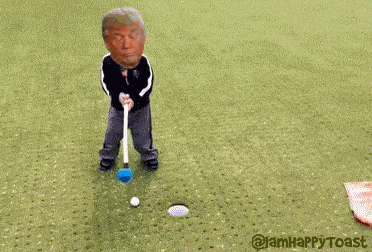 Everyone knows what a superathlete with spectacular physique and not-at-all misshapen penis Donald Trump is, proper? Sure although he believes train is the silent killer. You possibly can inform how spectacular of physique and regular of penis he's by his Superman buying and selling playing cards, that are an correct illustration of what he appears to be like like, or by asking former White Home physician and present Republican Rep. Ronny Jackson, whose perceptive skills on that entrance undoubtedly aren't impaired.
One other factor we all know? Trump follows the foundations of video games. Particularly golf. That is proper, he observe the foundations of the recreation of golf, and he follows the foundations of the recreation of life.
The Each day Beast experiences that Trump managed to win the golf match on the Trump Worldwide Golf Membership in south Florida this weekend, although he was 1,000,000 miles away in Fayetteville, North Carolina, on the funeral for the "Diamond" half of Diamond and Silk, the place he spent most of his time because the officiant bitching that they did not inform him how lengthy the funeral was going to be. Additionally being confused who this "Silk" individual was. As if Diamond had a solo profession and Trump wasn't acquainted with her collaborative work.
So yeah, the primary day of the match Trump "received" was the funeral, in North Carolina. After which on Sunday he "received."
Yay!
---
He publicizes this as a result of it is rather like a bodily examination, successful this golf match! He is excellent at golf, and he is excellent at stamina!
Fuck, he's like his personal private North Korean information woman, it's superb.
After that — whereas additionally bitching about RUSSIA HOAX and WITCH HUNT and Allen Weisselberg being in jail (LOL) and calling Mika Brzezinski "Mike" and calling Elaine Chao "Coco Chow" and insinuating that possibly "Coco Chow" helped Joe Biden retailer categorized paperwork in Chinatown — he additionally began "retruthing" shit like this:
You understand, as a result of he's so good at sports activities.
The Beast, quoting from Each day Mail (which we do not really feel like clicking on), says when Trump received to his match on Sunday, he had a five-point lead already.
¿Qué? you ask?
Nicely, it is easy:
The outlet reported that Trump boasted of getting performed a superb spherical earlier within the week, and that that recreation would rely as his first day's rating.
Precisely. That's how sports activities video games work. When you have a scheduling battle, you simply play your facet at any time when after which use that rating.
When requested in regards to the discrepancy, Trump marketing campaign spokesperson Steven Cheung advised The Each day Beast, "Along with being a superb golfer, President Trump is a good higher human being. He was honored to be in North Carolina on Saturday to rejoice the lifetime of Diamond, a exceptional particular person whose legacy will proceed to stay on."
Okeydoke.
Reminder:
Trump has lengthy maintained that he has by no means as soon as, ever, cheated on the recreation of golf—and that he's come by his many, many membership championship titles actually. In 2019, nonetheless, sportswriter Rick Reilly disputed the then-president's claims, telling Vox, "This man cheats like a mafia accountant."

"Trump's going round telling folks he has received 20 [club championships]," Reilly mentioned elsewhere within the interview. "However that's 100% a lie. I really performed with him as soon as, and he advised me how he does it: Every time he opens a brand new golf course, as a result of he owns 14 and operates one other 5, he performs the primary membership champion by himself and declares that the membership championship and places his identify on the wall."
Similar approach he treats presidential elections. The rest could be RIGGED and STOLLEN.
OPEN THREAD.
Comply with Evan Hurst on Twitter proper right here!
And as soon as that does not exist, I am additionally giving issues a go on the Mastodon (@evanhurst@newsie.social) and at Put up!

Have you ever heard that Wonkette DOES NOT EXIST with out your donations? Please hear it now, and when you've got ever loved a Wonkette article, throw us some bucks, or higher but, SUBSCRIBE! Do not use Paypal on your new month-to-month donations for the second, although, we're having some lengthy and boring ISSUES.
Do your Amazon procuring via this hyperlink, as a result of causes.
window.REBELMOUSE_ACTIVE_TASKS_QUEUE.push(function(){
!function(f,b,e,v,n,t,s) {if(f.fbq)return;n=f.fbq=function(){n.callMethod? n.callMethod.apply(n,arguments):n.queue.push(arguments)}; if(!f._fbq)f._fbq=n;n.push=n;n.loaded=!0;n.version='2.0'; n.queue=[];t=b.createElement(e);t.async=!0; t.src=v;s=b.getElementsByTagName(e)[0]; s.parentNode.insertBefore(t,s)}(window, document,'script', 'https://connect.facebook.net/en_US/fbevents.js'); fbq('init', '482172895483293'); fbq('track', 'PageView');
});
window.REBELMOUSE_ACTIVE_TASKS_QUEUE.push(function(){
/*! getClosest.js | (c) 2017 Chris Ferdinandi | MIT License | http://github.com/cferdinandi/getClosest */ /** * Get the closest parent element that matches a selector. * @param {Element} elem Starting element * @param {String} selector Selector to match against * @return Element Returns null if not match found */ var getClosest = function(elem, selector) {
// Element.matches() polyfill if (!Element.prototype.matches) { Element.prototype.matches = Element.prototype.matchesSelector || Element.prototype.mozMatchesSelector || Element.prototype.msMatchesSelector || Element.prototype.oMatchesSelector || Element.prototype.webkitMatchesSelector || function(s) { var matches = (this.document || this.ownerDocument).querySelectorAll(s), i = matches.length; while (--i >= 0 && matches.item(i) !== this) {} return i > -1; }; }
// Get closest match for (; elem && elem !== document; elem = elem.parentNode) { if (elem.matches(selector)) return elem; }
return null;
};
// Vanilla JS
var className="active";
// getting current URL and adding a class on the current menu item
var path = location.pathname.split("https://www.wonkette.com/")[1]; var link = document.querySelectorAll('.menubar a[href="https://www.wonkette.com/" + path + '"]'); if (link[0]) { if (link[0].classList) { link[0].classList.add(className); } else { link[0].className += ' ' + className; } }
// remove class from home-link var home = document.getElementsByClassName('home__item'); if (home[0]) { if (home[0].classList) { home[0].classList.remove(className); } else b)' + className.split(' ').join(' }
// search the closest parent and adding an active class on it too
var closestParent = getClosest(link[0], '.menubar_item-dropdown');
if (closestParent) { if (closestParent.classList) { closestParent.classList.add(className);
} else { closestParent.className += ' ' + className; } }
var socials = document.getElementsByClassName('social-links')[0]; var cloneSocials = socials.cloneNode(true);
var menu = document.getElementById("menubar"); var cloneMenu = menu.cloneNode(true);
var mobileMenu = document.getElementsByClassName('main-menu-wrapper')[0]; var beforeEl = document.getElementsByClassName('menu-global__search-form')[0];
mobileMenu.insertBefore(cloneSocials, beforeEl); mobileMenu.insertBefore(cloneMenu, beforeEl);
if (!document.body.classList.contains('logged-out-user')) { var existCondition = setInterval(function() { var userLink = document.querySelectorAll('.main-menu-item--my_page .link'); if (userLink.length) { clearInterval(existCondition); var membersLink = document.querySelectorAll('#membersLink'); var userUrl = userLink[0].href; Array.prototype.forEach.call(membersLink, function(el) { el.href = userUrl; });
if (document.querySelector('.main-menu-item--designer_editor')) { document.querySelector('.main-menu-wrapper').classList.add('user-admin'); } } }, 500); } else { var existCondition = setInterval(function() { var userLink = document.querySelector('.main-menu-item--login .link'); if (userLink) { clearInterval(existCondition); userLink.href="http://www.wonkette.com/core/users/email_login/"; } }, 500)
}
function copyValue(el) { var thisVal = el.options[el.selectedIndex].text; var closestForm = getClosest(el, 'form'); var paypalAmount = closestForm.nextSibling.querySelector('.paypal-amount'); paypalAmount.value = thisVal; }
document.addEventListener("scroll", createIdleScrollListener(() => { if (window.scrollY > 0) { document.body.classList.add('page-scrolled'); } else { document.body.classList.remove('page-scrolled'); } }));
function createIdleScrollListener(callback) { let ticking = false;
return function onScrollIdle() { if (ticking) { return; } ticking = true; requestAnimationFrame(() => { callback(); ticking = false; }); }; }
});
window.REBELMOUSE_ACTIVE_TASKS_QUEUE.push(function(){
window.addEventListener("scroll", () => { if(this.scrollY > 50 ) { document.querySelector(".rebelbar.rebelbar--fixed.skin-simple").style.display = 'none' } else document.querySelector(".rebelbar.rebelbar--fixed.skin-simple").style.display = 'block' });
});
window.REBELMOUSE_ACTIVE_TASKS_QUEUE.push(function(){
window.REBELMOUSE_STDLIB.loadExternalScript("https://checkout.stripe.com/checkout.js", function() {
if (!Element.prototype.matches) Element.prototype.matches = Element.prototype.msMatchesSelector || Element.prototype.webkitMatchesSelector;
if (!Element.prototype.closest) Element.prototype.closest = function(s) { var el = this; if (!document.documentElement.contains(el)) return null; do while (el !== null && el.nodeType === 1); return null; };
//default value is 10 window.tierNumber = 3; window.ppCounter = 0; window.tiersPerForm = {}; window.valueToTiers = { "200": 1, "500": 2, "1000": 3, "1500": 4, "2000": 5, "2500": 6, "5000": 7, "10000": 8, "50000": 9, "100000": 10 }
window.formsHandling = function () { var formDonate = document.querySelectorAll('.donation-form:not(.processed)');
// parse PayPal buttons after lazy loaded script var formDonatePP = document.querySelectorAll('.donation-form.processed:not(.paypal-widget--processed)'); formDonatePP.forEach(function(form) { if (typeof paypal === "object") { paypalProcessing(form); } });
formDonate.forEach(function(formElement) { let formEl = formElement;
formEl.classList.add("processed");
formEl.addEventListener("submit", function(event) { event.preventDefault(); });
// hide PayPal for Monthly payments formEl.querySelectorAll('.plan-type__label input[name="plan_type"]').forEach((radioBtn) => { radioBtn.addEventListener("change", function(event) { var paymentVal = event.target.value; // no toggle because of the lazy loading paymentVal === "monthly" ? formEl.classList.add("is--monthly") : formEl.classList.remove("is--monthly"); }); });
// process for paypal widget if (typeof paypal === "object") { paypalProcessing(formEl); }
var donationBtns = formEl.querySelectorAll('.donate-button');
donationBtns.forEach(function(el) { el.addEventListener("click", function(event) { event.preventDefault(); formProcessing(el) }); });
function formProcessing(el) { var btn = el; var payment = btn.getAttribute('data-payment'); var planType = formEl.querySelector('input[name="plan_type"]:checked').value; var checkedOption = formEl.querySelector('input[name="amount"]:checked'); var amount = checkedOption.value * 1; var amountOptional = checkedOption.getAttribute('data-amount'); var dataValue = checkedOption.getAttribute('data-value'); var action;
if ( formEl.contains(formEl.querySelector('.remove-me')) ) { formEl.querySelectorAll('.remove-me').forEach(function(el){ el.remove() }); }
if ( payment == "paypal" ) { formEl.action = "https://www.paypal.com/cgi-bin/webscr"; formEl.setAttribute('target', '_blank');
addHidden( 'currency_code', 'USD'); addHidden( 'cmd', ''); addHidden( 'return', "https://www.wonkette.com/st/Wonkettes_Hero"); addHidden( 'cancel_return', window.location.href);
if ( planType == "once" ) { checkedOption.value = dataValue; formEl.querySelector('input[name="cmd"]').value="_donations"; addHidden( 'business', 'rebecca@wonkette.com'); addHidden( 'item_name', 'Wonkette Donation'); addHidden( 'item_number', 'Just Once');
//add new params addHidden( 'a3', dataValue); addHidden( 'p3', 1); addHidden( 't3', 'D');
} else if ( planType == "monthly" ) { formEl.querySelector('input[name="cmd"]').value="_xclick-subscriptions"; addHidden( 'business', 'rebecca@wonkette.com'); addHidden( 'item_name', 'Wonkette Recurring Donation'); addHidden( 'item_number', 'wonkette_recurring');
//add new params addHidden( 'a3', dataValue); addHidden( 'p3', 1); addHidden( 't3', 'M'); addHidden( 'src', 1); addHidden( 'srt', 52); } formEl.submit(); } else if ( payment == "strip" ) { addHidden( 'entity_type', 1); addHidden( 'plan_type', 1); addHidden('entity_id', getSiteId() ); checkedOption.value = dataValue * 100;
if ( planType == "once" ) { formEl.action = "/core/payment/single_donation"; addHidden( 'plan_name', 'One Time Donation'); stripInit(amount, 'One Time Donation');
} else if ( planType == "monthly" ) { formEl.action = "/core/payment/recurring_donation"; addHidden( 'plan_name', 'Monthly Donation'); addHidden( 'plan', 'donation_' + amount); stripInit(amount, 'Monthly Donation'); }
}
} function addHidden(key, value) { // Create a hidden input element, and append it to the form: var input = document.createElement('input'); input.type="hidden"; input.name = key; input.value = value; input.className += 'remove-me'; formEl.appendChild(input); }
function stripInit(amount, description) { var token = function(res){ addHidden('stripeToken', res.id); addHidden('stripeEmail', res.email); formEl.submit(); };
if (amount) { StripeCheckout.open({ key: 'pk_live_7dJjNGbMgTkHfEasr9FsLcjF', // real //key: 'pk_test_zbMpaIyMyHJ7TLUEheC7q2iS', //test amount: amount, name: 'Wonkette', image: 'https://assets.rbl.ms/16950638/origin.png', description: description, panelLabel: 'Donate', token: token, locale: 'auto' }); } else { window.alert('Select donation amount first') } } });
function getSiteId() { var site_id = null; var inner = document.querySelector('html').innerHTML var str = inner.split('"site_id": '); if( str[1] != undefined ){ site_id = str[1].split(',')[0]; } return !isNaN(site_id) ? site_id : false; }
function paypalProcessing(formEl) { formEl.classList.add("paypal-widget--processed");
var paypalBtn = document.createElement('div'); paypalBtn.className="donate-button--paypal-widget paypal-subscription-button--js";
formEl.querySelector(".row--buttons button[data-payment=paypal]").after(paypalBtn)
formEl.querySelectorAll('.paypal-subscription-button--js').forEach(function (paypalButton) {
const uniqueId = `paypal-button-container-P-${window.ppCounter++}`;
paypalButton.id = uniqueId; window.tiersPerForm[uniqueId] = window.tierNumber;
formEl.querySelectorAll('.amount').forEach(function (elm) { elm.addEventListener('click', function() { window.tiersPerForm[uniqueId] = this.dataset.paypaltier ? this.dataset.paypaltier : window.valueToTiers[this.value]; }) });
paypal.Buttons({ style: { shape: 'rect', color: 'white', layout: 'horizontal', label: 'paypal', tagline: false }, createSubscription: function(data, actions) { return actions.subscription.create({ plan_id: 'P-63U94962M29427530MPAKE3Q', quantity: window.tiersPerForm[uniqueId], }); }, onApprove: function(data, actions) { actions.redirect("/st/Wonkettes_Hero"); } }).render(`#${uniqueId}`); });
} }
formsHandling();
REBELMOUSE_STDLIB.createElementChangeListener(".show-more.js-expand:not(.processed)", (el) => { const keepReading = el; keepReading.classList.add("processed"); keepReading.addEventListener("click", function() { setTimeout(formsHandling, 500) }); });
});
});
window.REBELMOUSE_ACTIVE_TASKS_QUEUE.push(function(){
window.REBELMOUSE_STDLIB.loadExternalScript("https://www.paypal.com/sdk/js?client-id=AdxlwXLDXH-4EoDilUUd88aX0yVvVElF2rX6c_iKNTkihp97_qwx55fkgU2T-w7jZBW-AMu4yxi5e--k&vault=true&intent=subscription", function() {
window.formsHandling();
});
});
window.REBELMOUSE_ACTIVE_TASKS_QUEUE.push(function(){
window.disqus_config = function () { this.page.identifier = "2659303793", this.page.url = "https://www.wonkette.com/trump-won-golf-tournament-diamond-funeral"; }; var disqusCt = document.createElement('div'), disqus_config; disqusCt.id = 'disqus_thread'; (function () d.body).appendChild(s); )();
function loadCountScript(callback) { var s = document.createElement('script'); s.type="text/javascript"; s.async = true; s.id = 'dsq-count-scr'; s.src = "//wonkettecom.disqus.com/count.js"; var x = document.getElementsByTagName('script')[0]; x.parentNode.insertBefore(s, x); s.onload = () => callback(s); document.head.append(s); } loadCountScript(script => { /*Add comment Button to all articles*/ REBELMOUSE_STDLIB.createElementChangeListener(".share-panel:not(.js--has-comments)", (el) => { let sharesPanel = el; sharesPanel.classList.add('js--has-comments'); if (sharesPanel.closest('.article__shares')) { let postId = window.REBELMOUSE_BOOTSTRAP_DATA.post.id, postURL = location.protocol + '//' + location.host + location.pathname; addButton(postURL, postId, sharesPanel); } else if (sharesPanel.closest('.widget')) { let thisPost = sharesPanel.closest('.widget'), postId = thisPost.getAttribute('elid'), postURL = thisPost.querySelector('.widget__headline-text').getAttribute('href'); addButton(postURL, postId, sharesPanel); } }); });
function addButton(url, id, el) { var commentBtn = document.createElement('span'); //commentBtn.href = url; commentBtn.classList.add('js--toggleDisqus'); commentBtn.classList.add('disqus-comment-count'); commentBtn.setAttribute('data-disqus-url', url); commentBtn.setAttribute('data-postid', id); //commentBtn.setAttribute('data-disqus-identifier', id); commentBtn.innerText="0"; el.append(commentBtn); DISQUSWIDGETS.getCount({ reset: true }); //console.log(url, id); } REBELMOUSE_STDLIB.createElementChangeListener(".js--toggleDisqus:not(.js--callDisqus-processed), .show-more:not(.js--callDisqus-processed)", (el) => { console.log('run callDisqus()'); var timeOut = 10; if (el.classList.contains("show-more")) { timeOut = 1000; } el.classList.add('js--callDisqus-processed') el.addEventListener('click', function () { setTimeout(function () { let t = el, thisPost = t.closest('article') || t.closest('.js-section-loader-feature-container'), postId = t.getAttribute('data-postid'), postURL = t.getAttribute('data-disqus-url'); document.querySelector('#disqus_thread') && document.querySelector('#disqus_thread').remove(); if (t.closest('.article__shares')) { let postWrap = document.querySelector('.mobile-post-wrapper'); postWrap.appendChild(disqusCt); } else { let afterEl = t.closest('.widget'); if (afterEl) { afterEl.parentNode.insertBefore(disqusCt, afterEl.nextElementSibling); } } console.log('DISQUS.reset', postId, postURL); DISQUS.reset({ reload: true, config: function () { this.page.identifier = postId; this.page.url = postURL; } }); if (t.classList.contains('js--toggleDisqus')) { let disqus = document.getElementById("disqus_thread"); // disqus.scrollIntoView(); } }, timeOut) }); }); // Hide hidden tip-jar, idk why window.REBELMOUSE_STDLIB.createElementChangeListener(".js-keep-reading:not(.js-processed)", (el) => { let keepReading = el; keepReading.classList.add('js-processed'); //keepReading.closest('.mb-2').nextElementSibling.style.display='none'; });
});